Christian Science is a spirituality-based method of treating disease and alleviating suffering that has been practiced by thousands of professional healers around the world for over 125 years. Discovered by Mary Baker Eddy in 1866, it explains how Jesus Christ healed through divine law and how we can learn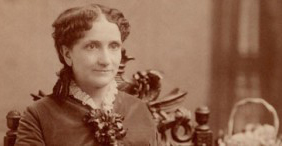 to heal through his example and teachings.
The rules of Christian Science and its method of treating disease are explained in the textbook, Science and Health with Key to the Scriptures, by Mary Baker Eddy. First published in 1875, millions of copies of Science and Health have sold over the last century to people of various faiths and backgrounds.
Christian Science is not a church, or an organized religion. It is a universal system of spiritual healing anyone can practice whether they are religiously affiliated or not. It is the divine Comforter promised by Jesus that comes to us where we are, reveals to us our immortal selfhood at-one with God, takes mortal suffering away.
There is a church, The First Church of Christ, Scientist, headquartered in Boston, Massachussetts, whose members practice Christian Science. But Christian Science itself is a teaching accessible to all earnest seekers of Truth.
A Self-Understanding of Christian Science, excerpt
Shirley Paulson, Head of Ecumenical Affairs, The First Church of Christ, Scientist

The theological premise in Christian Science that God is infinite and omnipotent Love guides the Church's mission to and blessings for the world. Christ Jesus' message that the kingdom of God is here is the authority from which his disciples (then and now) heal suffering of all kinds in the world. True healing prayers are "deep and conscientious protests of Truth – of man's likeness to God and of man's unity with Truth and Love."(Science and Health with Key to the Scriptures by Mary Baker Eddy, p. 12:13-15) Prayer, therefore, is considered the greatest blessing to oneself as well as the greatest service to the world. Physical cure through prayer demonstrates God's unconditional and powerful love for all.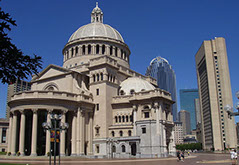 Healing in Christian Science is not willing the sick to recover, but a humble response to God's loving care for the whole creation. Today, as in Eddy's time, the Christian Science Church encourages its members and all people to take part in the healing of illness and oppression anywhere in the world. Self-employed practitioners pray with and for others on a fee-for-service basis, serving not just Christian Scientists but anyone who contacts them for help. Another expression of this pastoral care is Christian Science nursing, which provides additional support, such as feeding, cleansing, and bandaging for individuals relying on spiritual care. While these Christian Science practitioners and nurses are recognized by The Mother Church, their healing ministries are not subsidized or controlled by the Church.
The Christian Science Church lovingly encourages, supports, and embraces everyone in their quest for health and well-being. Because of the sincere commitment of Christian Scientists to spiritual healing as an expression of their faith in God, and because of their successful experiences with spiritual healing, they may be reluctant to seek medical treatment for themselves. However, the Christian Science teaching is to love and support others unconditionally, whatever system of health care they may choose.
"There is only one prayer that is ever answered—the prayer to know God. He is our one real need. Prayer unanswered is prayer that is not truly unselfish, prayer for something less than silent surrender to the perfect Father. But when through Science we become completely conscious of our spiritual being at one with our Father, there simply is nothing that can harm us—no disease, no lack of good, no power of evil."
"What Are We Praying For" by William Robert Suddaby from the February 1973 issue of The Christian Science Journal